Overview
The healthcare sector in Bangladesh has experienced increased growth in recent years. In 2013, the direct contribution of the sector to GDP was $1.78 billion, increasing to 3.45 billion in 2017. With an annual two-digit growth rate, the Bangladesh pharmaceutical industry is now heading towards self–sufficiency in meeting local demand. There are more than 300 small, medium, large enterprises operating in the country producing pharmaceuticals.

The Government of Bangladesh encourages foreign companies to partner with local companies in producing drugs, and high-tech and specialized products. Regulations have eased, allowing foreign companies to export medical products to Bangladesh.

Bangladesh offers opportunities for exporters of high-end medical equipment, surgical instruments, diagnostic equipment, and services. Imported medicines and medical devices are subject to customs duties depending on types and classes. Anti-cancer drugs, vaccines, hormonal contraceptives, and others can be imported without any tax. The medical device sector is not currently strictly regulated, although a policy for doing so has been drafted and is now awaiting approval. To enter the healthcare sector in Bangladesh, a company is required to provide the necessary application and supporting documents. For pharmaceutical companies, the applications will go to the Directorate General of Drug Administration (DGDA).

The Ministry of Health and Family Welfare (MOHFW) is responsible for formulating national-level policy, planning, and decision-making in the provision of healthcare and education. The national-level policies, plans, and decisions are translated into actions by various implementing authorities and healthcare delivery systems across the country from the national to the community level. The Ministry and its relevant regulatory bodies also have indirect control over the healthcare system of the NGOs and the private sector. The majority of high quality medical institutions are centered in the city of Dhaka and it acts as the hub for medical service dissemination across the country.
---
Bangladesh Medical Device Industry
The medical device market is projected to grow by a 2018-2023 CAGR of 13.2% in local currency terms, above the previously projected 2018-2023 CAGR of 12.4%, which will take the value to BDT40.3bn (USD426.3mn) by 2023. The market will benefit from robust economic expansion, although this will be constrained by a slowdown in western economies which remain Bangladesh's main export markets and leading source of foreign direct investment.
Market drivers include rising health expenditure, the need to develop healthcare infrastructure, Asian Development Bank funding approved in October 2018 for primary care, and assistance from international aid agencies.
Market barriers include the uneven distribution of healthcare facilities, poor access to health services in rural areas, one of the world's lowest physician/nurse-to-population ratios, low per capita spending on medical devices, inflation of medical device prices by local suppliers, and limited domestic production, mainly focused on basic consumables.
Exports will grow in 2019 as a modest domestic industry begins to form. Exports decreased by 14.7% y-o-y to USD3.7mn in the three months to November 2018. Over the 12-month period to November 2018, they rose by 15.4% to USD16.3mn.
This article from Fitch Solutions Macro Research is a product of Fitch Solutions Group Ltd, UK Company registration number 08789939 ('FSG'). FSG is an affiliate of Fitch Ratings Inc. ('Fitch Ratings'). FSG is solely responsible for the content of this report, without any input from Fitch Ratings. Copyright © 2019 Fitch Solutions Group Limited.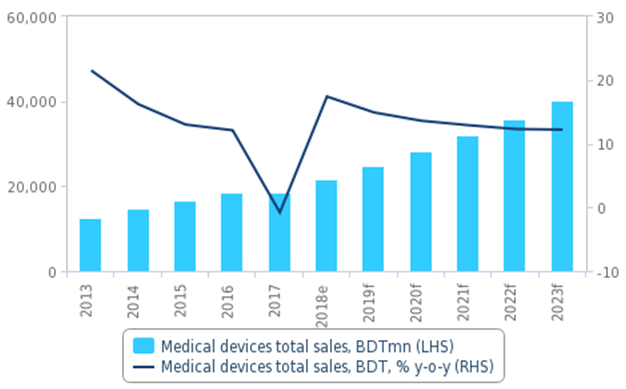 Source: National Statistics, Fitch Solutions